Resources for Recovery-Minded, Inclusive Movement
Mar 09, 2023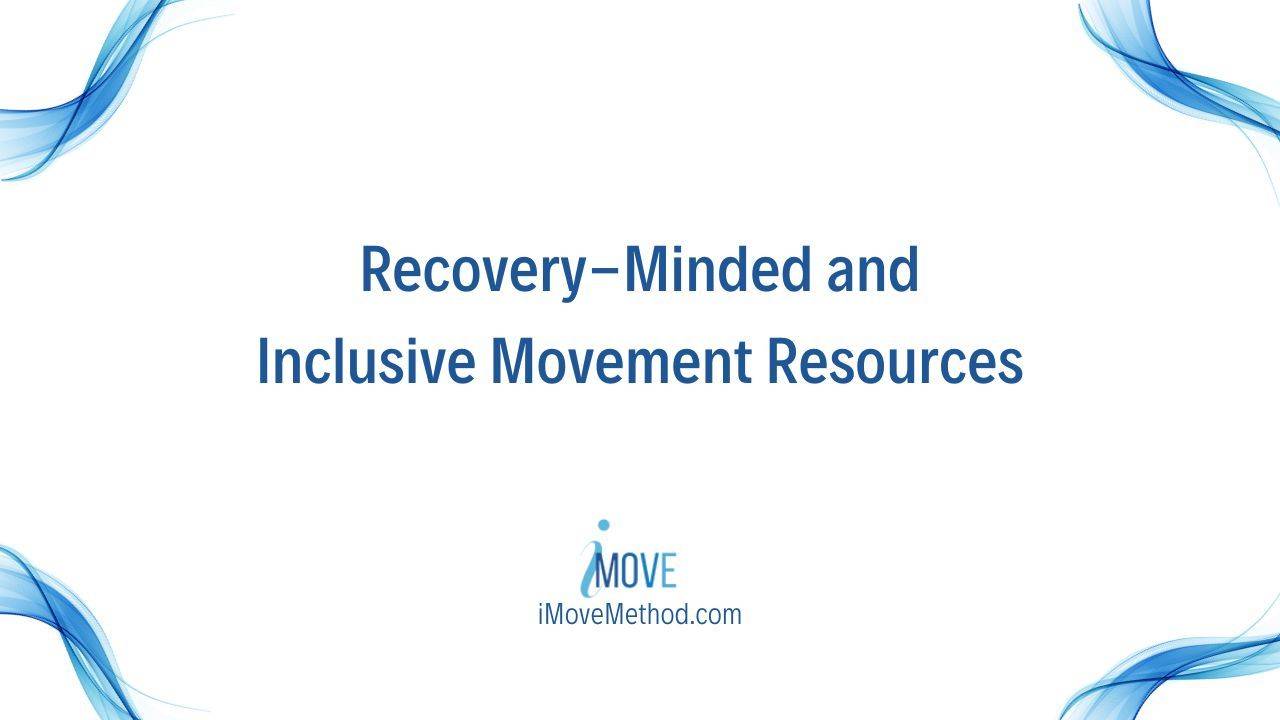 Recovery-Minded and inclusive movement resources to share with your clients.
If you work with clients with eating disorders, you know how hard it can be to find recovery-aligned exercise spaces. Here is a list of resources I have compiled for you to share as a resource for your clients.
A no cost online platform focused on joyful movement for all bodies, offering adiverse representation of every type of body: "Joyn is the leading platform for body-neutral movement. No judgment, no diet talk, no BS, no cost."
Kalie Eastin is an eating disorder and trauma-informed, certified iMove practitioner and yoga teacher in Iowa offering in person and virtual individual yoga/therapeutic movement.
Through her own path to body acceptance, Rachel Estapa created a space for individuals of all sizes to access yoga with a specific focus on accessibility to those in larger bodies.
Body liberating, weight-inclusive, empowering personal training and group classes located in Somerville, MA. Virtual personal training is also available.
A Canadian-based running collective for self-identified women seeking a safe space to connect with others and their own minds and bodies. They run, have brunch, share in discussion about their relationship to running, diet culture, etc with guest speakers often joining. The program is growing and there are opportunities to create chapters in other areas.
Recovered fitness instructor, Jamie, is committed to creating at-home, empowering movement classes and creating community through movement. Her motto is "connection over perfection".
Jessi Haggerty is a HAES-aligned eating disorder informed personal trainer and RD who offers individual and group trainings.
Sarah is a social worker and trauma sensitive yoga teacher in Australia who operates from a weight-inclusive, social justice paradigm. Virtual workshops and classes are available.
Free and low-cost virtual yoga classes and community for those in recovery, with access to a Facebook group.
Zabrini Motwani is a HAES-aligned personal trainer based in Denver , providing both in-person and virtual body-neutral fitness & strength training.
Montana DePasquale is a former D1 runner recovered from eating disorder who helps those in recovery return to running in a way that centers their recovery.
Network of Eating Disorders informed and sensitive fitness and rehabilitation professionals to help individuals heal their relationship with body movement and sport; during their recovery process; and demonstrate how to collaboratively work with the rest of the eating disorder interdisciplinary treatment team.
Focusing on how the movement feels rather than how the body looks, they offer a variety of fun cardio-inspired classes in a non-judgmental space.
Inclusive yoga offerings for all bodies.
Virtual yoga, breathing, meditation and movement practices aligned with the iMove Method.
This list is certainly not exhaustive. If you happen to know of another resource that would be good to add to this list, please reach out to share it so I can make sure to include it!
If you want to start helping clients heal from compulsive exercise and have not yet downloaded my free guide with a 3 step process that makes it easier to do this. Get your copy here.
If you are interested in learning more about how you can become certified in the iMove Method® training, book a call with me and we can review any questions you have about adding this training and service to your practice. You can book a time with me via my online calendar.